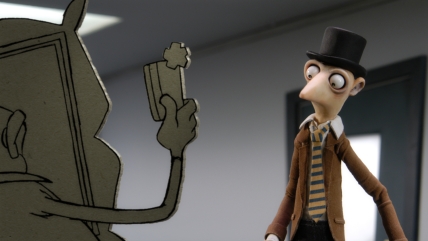 In commemoration of World Animation Day, the Metro Cinema exhibited two free, back-to-back screenings of National Film Board shorts: a kids' programme, and another one. I'm not sure what the criterion for inclusion in the children's screening was, though the films in that package tended to be the ones with a more straightforward attitude to story.
The kids in attendance loved it, at any rate, and broke out in applause at the end. I don't think I've ever seen that among children outside of packed advance screenings and Pixar opening nights. What a treat it must be to see a whole new generation of potential NFB classics at so young an age, when one pays little heed to the finer subtleties of design and technique, but bathes in the overwhelming effect; the age at which a card trick is real magic.
Here in Canada, many people my age who think they only have a casual exposure to animation probably have vague recollections of The Cat Came Back or The Log Driver's Waltz flickering across their television sets. NFB animation is truly one of the government-funded arts initiatives that is successful even by the Stephen Harper metric, and it isn't at all a case of nationalistic self-aggrandizement to acknowledge that it has made this country a world player. And considering how many of the best shorts come out of Quebec, I'm glad they're still here.
As for this weekend's films: there was a lot to like, and I reserve an especial fondness for the hysterical India-ink anachronisms of Claude Cloutier's Isabelle au bois dormant (Sleeping Betty) and the punch line that caps off the rhythmic metamorphosis of Malcolm Sutherland's Forming Game. But there was one film that was the very height of magnificence: Le noeud cravate (The Necktie), Jean-François Lévesque's mixed-media meditation on the horror of the lifelong dead-end job.
Le noeud cravate was exhibited in both screenings, so I had the pleasure of seeing it twice. I don't want to give away its most shocking moments, so a careful synopsis will do: a young man receives a striped necktie as a graduation gift, packs his accordion away, and ascends the skyscraper of the aptly named Life Inc. As he rises from floor 25 to 39, the necktie tightens around his neck like a noose, his briefcase overflows with paper, and he develops a hunch. At 40, the only three-dimensional person in an office of 2D worker drones, he wakes up to the realization that he has spent his life sitting in a dimly lit office ironing crumpled paper for no reason whatsoever—so he takes the elevator to the top floor to see what lies ahead.
More than that, I won't say; you must see it for yourself. I haven't seen enough of the field to know what the competition is like, but Lévesque's piece is without a doubt comparable to the quality of past Oscar winners, and I hope it ends up on the shortlist this year.
Previous: Wednesday Book Club: The Rest Is Noise
Next: Wednesday Book Club: Dreams from My Father
Say something interesting: