Scholars of the theoretical humanities (by which I mean the philosophical and literary species) would be wise to heed the post at Gene Expression bearing the belligerent and self-explanatory title, "Graphs on the death of Marxism, postmodernism, and other stupid academic fads." The short version: an empirical scan of the JSTOR database reveals that many of the great buzzwords of theory, from "psychoanalysis" to "deconstruction", are plummeting in prevalence in scholarly articles and citations. The author clarifies the methodology in a follow-up post, and then goes on to produce a set of graphs on "scientific approaches to humanity", which I take to mean "investigations of material determinism and how far it extends."
Naturally, this won't amount to a hill of beans to the apologists who deny the existence of an empirical reality outside discourse and have no use for the positivist prejudices of the hegemons who have the nerve, the nerve to quantify things. Well, it's their loss.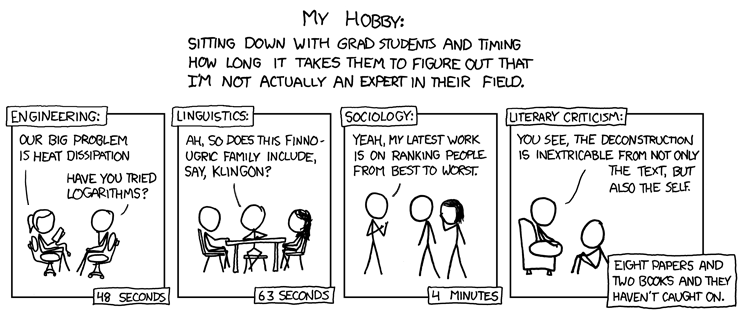 As someone who studied both the hard sciences and literary theory in considerable measure, I am compelled to make a few quick remarks of my own. If theory in its present incarnation is indeed collapsing, I lay the blame on what I like to call the Two O's (ooh!): overextension and obscurantism.